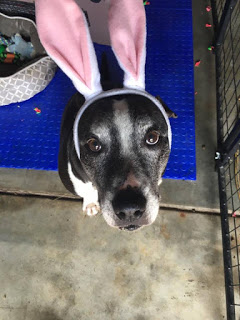 Betty (affectionately known around here as Betty Boop) was pulled back in 2013 from our local Manatee County Animal Services when the dog overpopulation called for more kennel space. She arrived at Animal Services after being confiscated by police when her owner was evicted from his home. She found herself middle-aged and homeless, and it wasn't her fault. She came to us 5 years old, thin as a rail, heartworm positive and sassy as all get out.
Two days after being sprung from the crowded shelter, Betty surprised us all by giving birth. Only one of her two puppies survived, but she was a determined little rascal. She was a spitting image of Betty — a little mini-me. Betty's pup quickly found a great home and Betty continued her medical care so she could be placed for adoption and find a family of her own.
Eventually, Betty put on a healthy amount of weight (although if you ask some of us, she could stand to lose a few pounds) and began to look like the normal, happy dog she is. She was spayed so there would be no more surprise puppies in her future (something we do for every dog who walks through our doors) and we made sure she had all the medications she needed to fully recover from her heartworms.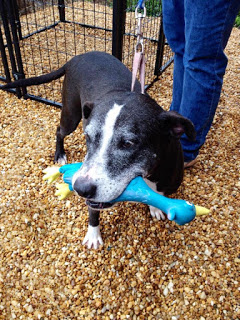 A year passed and Betty spent her days walking and lounging with kennel staff and volunteers when they were around, chewing on her favorite toy (a rubber chicken), and using her big doe eyes to convince us all to give her treats whenever we had them. Her photos were on all of the adoption sites, and she often made an appearance on facebook looking for suiters, but she didn't score any dates. (If only we could photograph inner beauty, online-dating and dog rescue would be a whole different ball game.) Another year passed, and still Betty's only family remained the volunteers, kennel staff, and barking neighbor-friends that surrounded her.
Somehow time has flown, and Betty's third anniversary with our rescue is quickly approaching. Nothing in this sweet dog's life has ever been fair, but each day when we are greeted by her exuberant wiggles we're reminded to keep our heads up and persevere, because she's not going to let anything ruin even one single day for her, and we know her forever home is out there. Betty ended up homeless due to no fault of her own, and the only reason she hasn't found love is because she's overlooked due to the grey around her muzzle. She's an amazing dog, and she will be someone's very best friend some day. #BeTheOne to see past the grey.
Betty is a huge inspiration for our new campaign, #UnforgettaBULL, in which we hope to educate the community on the plight of pit bull-type dogs and other dogs that are overlooked based on health, age, or appearance. These dogs often end up falling through the cracks, and no dog deserves to be forgotten. Our goal is to remind you that all they need is a second chance and a little extra time, and to think of dogs as individuals, not statistics.