Forget-Me-Not Inc. is a No-Kill animal rescue that saves the lives of Death Row Dogs (senior dogs, pit bull types, blind/deaf dogs, dogs suffering from emotional trauma, and those with medical needs). Our #UnforgettaBULL campaign in the 2016 Giving Challenge was the perfect way to put our passion for these dogs into words. These are the dogs we hold in our heart forever, and they are the dogs for whom our rescue was founded in 2013.
As we look back to the 2016 Giving Challenge, we are amazed and humbled by the generosity of our donors and community. During the 2016 Giving Challenge, donors enabled FMN to set a new fundraising record for our rescue in a 24 hour period. FMN also won additional grant money in competitions against our fellow non-profit organizations. Team morale went through the roof! After the awards were announced, people asked us how much it cost us to pay someone to do our social media, photography, video, website,and graphic design. We're so proud to say, not a cent. All was donated by our rock star volunteers. We're so proud to be working with such a passionate and talented group of people.
All-in-all, FMN received more than $33,000.00. The entire FMN family appreciates your donations. Each and every person who donated made a difference. It means the world to us that you decided to Be The One to open your heart to our homeless dogs.
We strive to maximize their impact of all donations on the lives and welfare of the dogs in our no-kill rescue. All monies raised went to care for our dogs and allowed us to:
Sign a 3-year lease to rent property in town. Our dogs now have greater access to meet potential adopters and participate in events.
Double the kennel space of all the dogs living at our shelter.
Purchase the required necessities (food, blankets, chew toys for strong chewers, heartworm and flea preventative).
Routine and unexpected medical care.

FMN is particularly proud to rescue several abandoned animals in our community as a result of the 2016 Giving Challenge.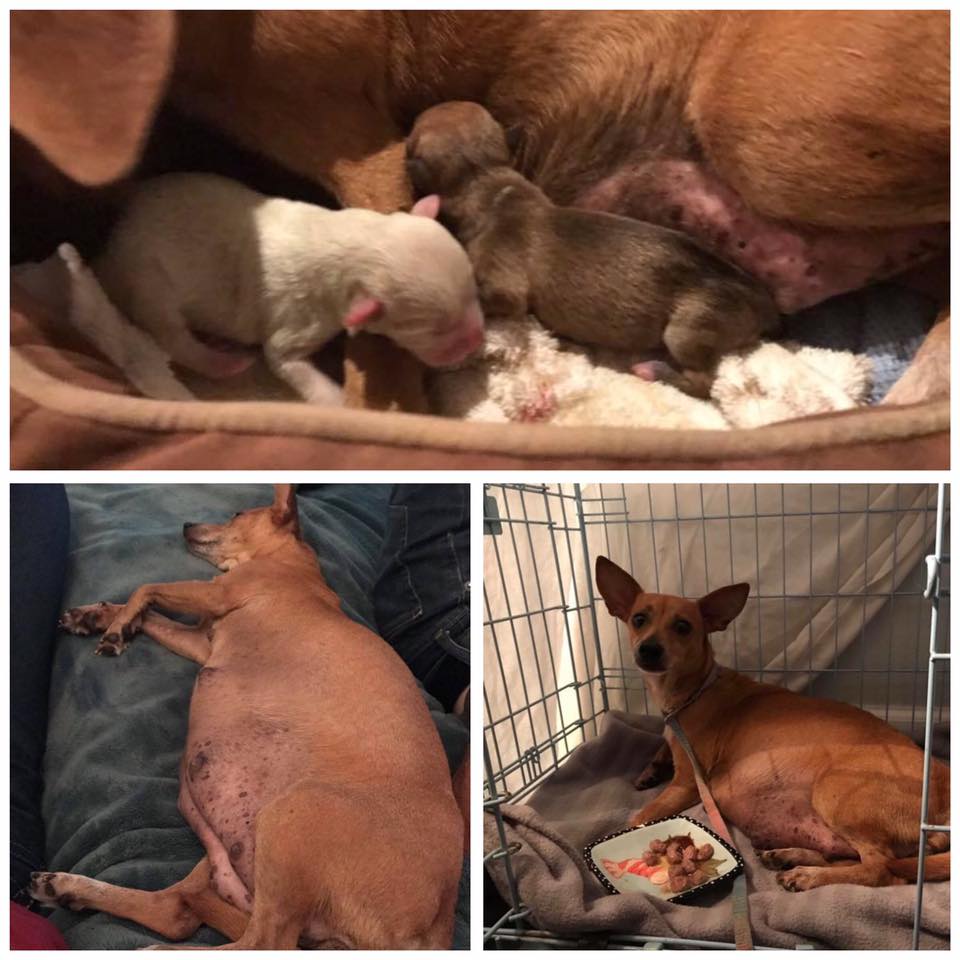 Although we primarily rescue bully breeds, we could not say no when this very pregnant Chihuahua was dumped and left to fend for herself. She was due to give birth to 7 pups. Momma Kifi required an emergency C-section, and only 2 pups survived. A few days later, Kifi was rushed to the emergency veterinarian clinic to save her life. A few veterinarians asked if we wanted to euthanize Kifi since she was only a rescue dog. We are a no kill rescue. Our answer was NO. Our mission is to save lives. Today, Kifi is happy, loving, and doing well. She requires daily medication.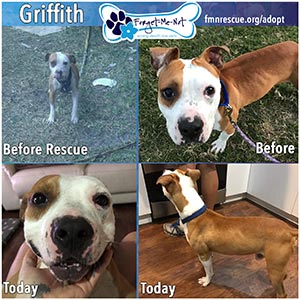 We received a call from a Good Samaritan about this boy, Griffith. He spent his day tied to a tree, vulnerable to attacks from predators. He only received food and water on an intermittent basis. The Good Samaritan was able to spring him by paying the "owner." Griffith was welcomed in the FMN family. He was subsequently neutered, received all vaccinations, tested for heartworm, placed on preventatives, and given time to decompress. Griffith is now living in a foster home. He is calm, loving, and walks nicely on a leash.
In a few weeks, FMN will be participating in the #GivingChallenge2018. The Giving Challenge is presented by the Community Foundation of Sarasota County with giving strengthened by The Patterson Foundation. In addition, supporting partners include Herald-Tribune, Harbor Style, Knight Foundation, Charlotte Community Foundation, William G. & Marie Selby Foundation, iHeartMedia, Suncoast News Network, and Manatee Community Foundation.
Your donations made a tremendous difference to our FMN in 2016. We ask for your continued support during the Giving Challenge 2018, from noon on May 1 to noon on May 2. During this 24-hour time period, your donation will make the greatest impact. The Patterson Foundation will match donations of up to $100. You can Be The One to make a difference and help our homeless dogs. Without your help, we could not continue to speak loudly for homeless dogs, give them the rehabilitation, medical care, and extra time they need to be set up for success.