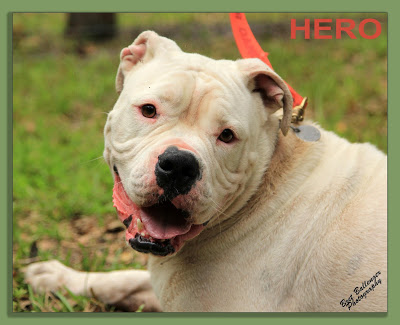 I'm Hero! People who know me say I'm a big mushy faced love bug who is just as sweet as can be! People who don't know me decided to call me a 'dangerous dog' because of a big misunderstanding. You see, I was in a home once after being rescued from a life of neglect and abuse. Somehow I got out of the gate one day and decided to go on an adventure. Looking back, that wasn't one of my best decisions but I can't change the past! Anyways, while I was enjoying all the smells the world has to offer, I wandered into someones private yard. Turns out those people didn't like my kind, so the lady started chasing me with a broom! How was I supposed to know I wasn't allowed to smell the things in her yard? Long story short, she was chasing me with her big scary broom, so I ran for the first safe looking place I could find because it was terrifying! That safe place happened to be her house, and somehow amidst the chaos, her daughter was scratched on her chest. I didn't mean to hurt her, I was just trying to say hello while running from the scary lady with the broom.
Fast forward, I ended up in doggie jail awaiting sentencing. I was scared, lonely and very confused! I tried to tell them I'm a good boy, that I was very sorry and didn't mean to hurt anyone but they didn't seem to understand. They wanted to kill me for one little scratch, it didn't even require stitches, just a band-aid! Thankfully, the angels at Forget-Me-Not Inc. came to my rescue! In exchange for my life, I was sentenced to being called a 'dangerous dog' and abiding by all the rules that come with such a bad title.
The law that punished me has now been declared unconstitutional thanks to a dog named Padi, however, every year FMN still has to pay my hefty registration costs ($500!), and my home has to adhere to certain requirements and restrictions. With all those fees and rules the chances of a dog like me ever finding a home of my own aren't great, but thankfully my angels at FMN will care for me and love me forever! Saving dogs like me, that's what they do, but they can't do it alone! Please consider supporting my friends at Forget-Me-Not Inc. during the 2016 Giving Challenge September 20-21 so that they can continue to help deserving dogs like me!